Bare Assets Magazine Back Issue - February 1991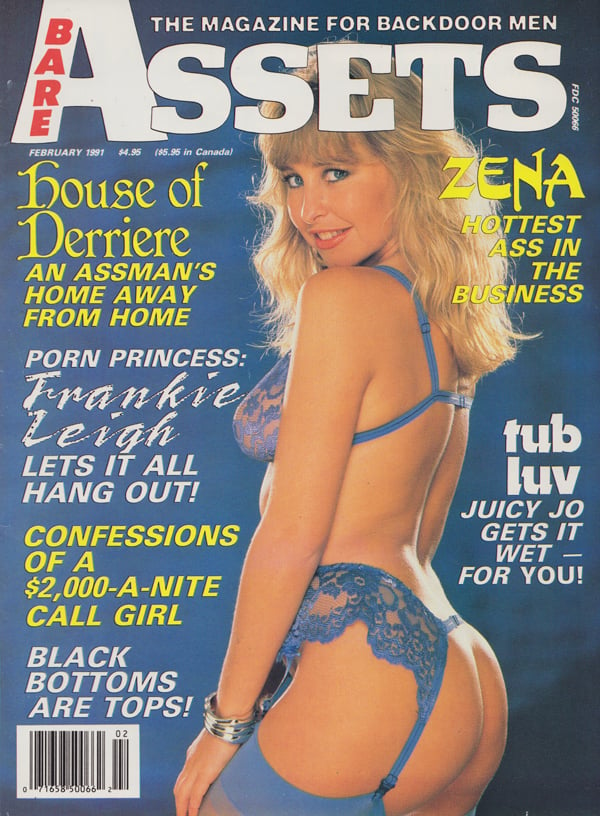 Bare Assets February 1991 Magazine
TABLE OF CONTENTS
6 IFS AND/OR BUTTS
ASSorted news from Fannyland!
10 AMERICAN TAILS
A reader tells us why black bottoms are best!
14 GIVE US A HICKEY!
Superstar T&A model Pauline Hickey gives her all!
20 THE HOUSE OF DERRIERE
An assman's home-away-fromhome!
22 CHEEK'S IN THE MAIL
Lusty letters from our ass-crazed readers!
25 XXX-TV
Invisible Girl and Triangle!
30 DEAR WANDA .. .
Amorous advice for the filthy-minded!
33 STEFFIE: OPEN FOR BUSINESS
Her business is pleasure — and she never closes!
39 PORN PRINCESS: FRANKIE LEIGH
She's one of those porn stars who seems built for lust!
44 CONFESSIONS OF A $2,000-A-NIGHT CALL GIRL
She's the kind of woman most of us just dream about!
47 ZENA: WET
She's got the hottest ass in the business!
56 LUCI & NIKKI: BLONDE AMBITION
They want to set the record for orgasms — with each other!
64 TAKE MY WIFE
The raunchy wives of our depraved readers!
68 BALLING ON THE BUS
One night going home, Bob got the ride of his life!
73 WIFE OF THE MONTH
The raunchiest wife of our most depraved reader!
81 BUCK NAKED
Porn stud Buck Adams runs a babe through her paces!
88 JO: TUB LUV
Juicy Jo gets it wet — for you!