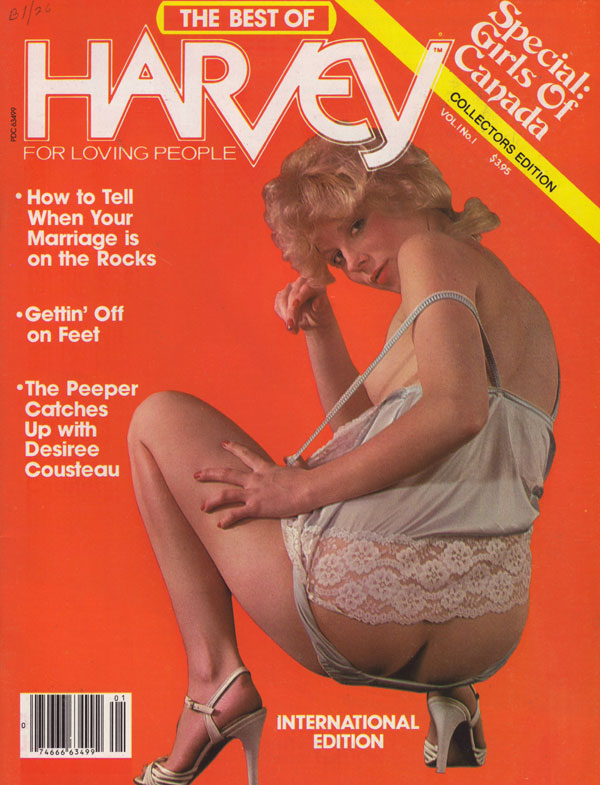 Best of Harvey International Edition # 1 Magazine
TABLE OF CONTENTS
FEATURES
14 Sandy
Photographic essay
22 Getting Off on Feet
The sensual thrill of going down on your lover's toes.
by Carol Smith
25 The Girls of Canada
Photographic essay
34 Up Yours, Sucker!
Final chapter of a sizzling series by Jane Ellen Wayne
36 My Special Friend
Photographic essay
46 How to Tell When Your Marriage Is on the Rocks
A special report on the pitfalls of Holy Matrimony
by T. Pete Bonner
49 Sun Goddess
Photographic essay
60 Splendor in the Grass
Photographic essay
71 The Great Romantic Loves
A classic love letter
by Oscar Wilde
DEPARTMENTS
5 Dear Harvey
Your Comments on Harvey magazine
6 Love Letters
An open forum of lusty letters to your loved ones
7 HARVEY ADVISOR
Frank and informative answers to your private sex questions and concerns
9 Hotline
A sizzling selection of the hottest letters and phone calls received on our Hotline — directly from you!
12 For Loving People
A couple's guide to stimulating sex techniques
33 Bed/Time/Story
"Girl's Night Out"
58 The Peeper
Our roving photographer keeps his camera cocked for some real sneaky shots.