Big Ones USA Magazine Back Issue - June 1992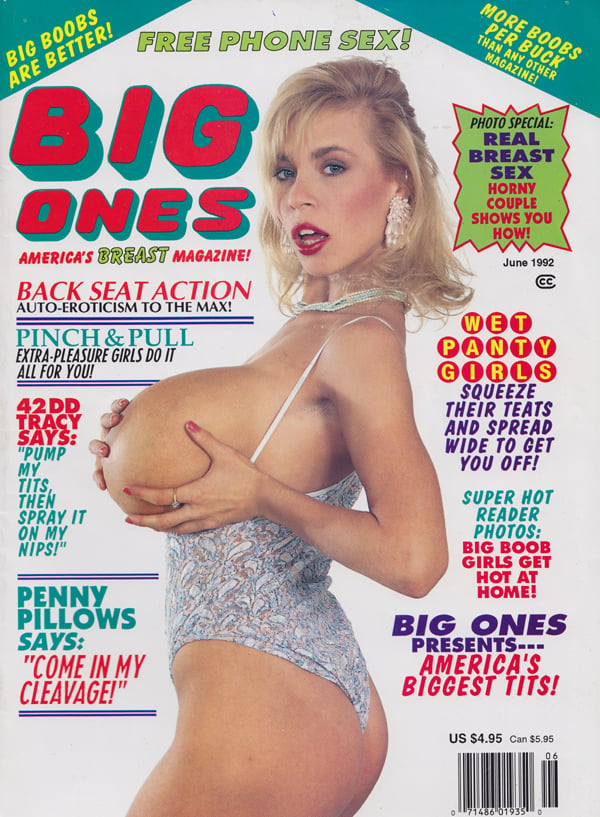 Big Ones June 1992 Magazine
TABLE OF CONTENTS
7 TRACY
Her pouty red lips and big pink nipples make your cock spring to attention!
28 THERESA THRUSTAS
With huge knockers like these, Theresa can barely stand upright. But hey, she looks better flat on her back!
15 PENNY PILLOWS
Her heavenly hooters jut skyward, , begging to be sucked, squeezed and screwed!
24 READER LETTERS
Share your wildest, naughtiest big tit adventures with us here. We print it all!
36 VIDEO VIXENS
BIG ONES reviews the hottest Big Bookvideos, for your viewing and spewing pleasure!
41 PINCH & PULL
Check out these horny babes while they tug, stretch, pinch and pull their big, swollen nips!
80 BUBBLES
Bawdy, blonde and built for sex. If you could match her tits inch for inch, you'd have the biggest dick in the world!
90 AMATEUR PHOTOS
Honey's hanging hooters are ready to be fucked. Grab her gigantic globes for the ride of your life!
46 HEIDI HOOTERS
Her bra-busting bazookas defy gravity. If she didn't have her feet planted firmly on the ground, these tremendous tits would carry her away!
62 Bambi BALLOONS
When she wraps her love sacks around his big, hard cock, you can feel the heat in your own stiff boner!
54 HELEN HEADLIGHTS
Mouth-watering roams, a beautiful face, big brown areolae, a hot pink pussy and a rich daddy make her prime marriage material!
70 DELTA FORCE AND MEGAN MAMS
The battle of the super boobs takes place at midday. Watch these titters fake each other on...to a wild climax.