BJ Magazine Back Issue - Number #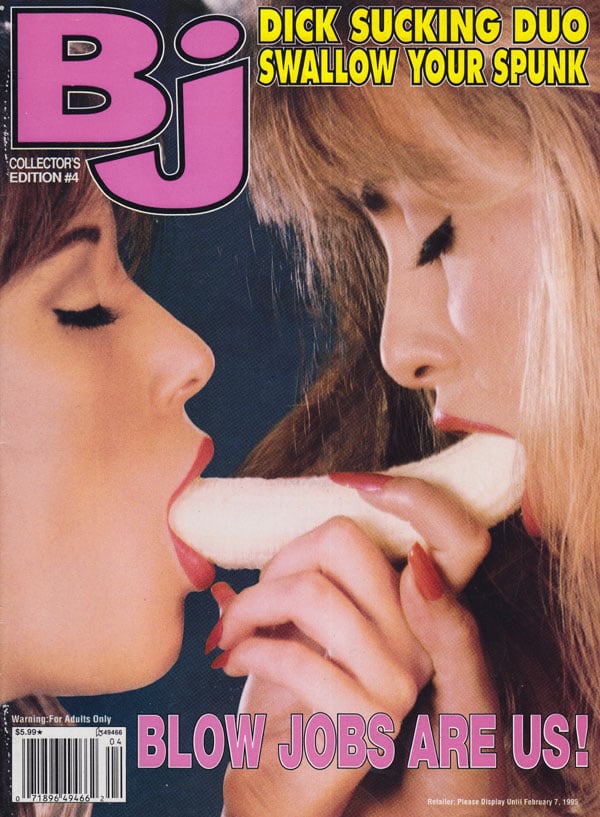 BJ # 4 Magazine
TABLE OF CONTENTS
4 COCKSUCKERS CORNER
Cockaholics Cum Clean.
8 SUCKIN' DICK
Executive Meat-Milker Sucks Up To The Boss.
14 MONKEY BUSINESS
Four Wild Banana Babes Go Ape For Cock!
20 ORAL EXAM
Kinky Cock Tales from Hard-Core's Hottest Blow Holes.
26 THAR SHE BLOWS
Our Private Gallery of Goo-Guzzling Sluts.
34 COPS 'N' GOBBLERS
The Gal Who Blew The Man In Blue — She'll Blow You, Too!
42 TONGUE LASHING
Wet Bitch Makes Her Husband Cum Up With The Goods!
50 HEAD COMIX
Pop-Shot Cartoons.
52 CUM SPLATS
What Goes Through Her Head When Yours Is In Hers.
60 MELTS IN YOUR MOUTH
Hard Candy Cocksucker's Special Dessert Topping.
70 ODD JOBS
The Origins Of "Yellow Fever": Asian Slurp Secrets Revealed.
78 FOREIGN EXCHANGE
Oral Sex With Nasty Phone Sluts!
90 HO HUM
Her Mouth Music Tames The Savage Trouser Snake!