Elite Album Magazine Back Issue - Number #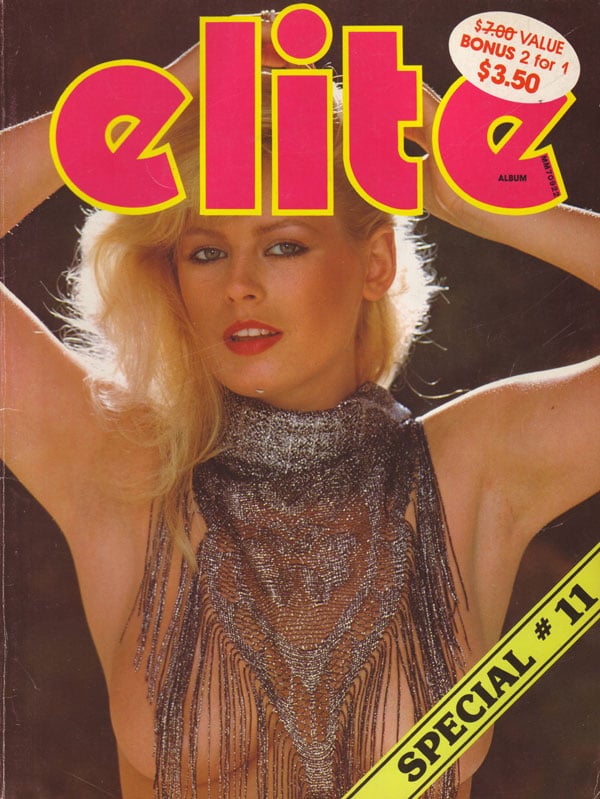 Elite Album # 11 Magazine
TABLE OF CONTENTS
ELITE AUGUST 1981
7 NOTES & BOLTS
11 SEX RATED
Adult Film Critics Circle Awards
15 LETTERS
17 FANTASY TAPE
20 INTERVIEW:
Jackie Bisset by George Haddad-Garcia
23 ANOTHER GIRL WITH BIG TITS
"Do tit men care if I have nothing to say?"
31 SHAMELESS TALES
Artists & Models
40 WAS ALI THE GREATEST?
by Frank McGowan
43 THE GREAT CANADIAN BEAVER HUNT
48 THE OBSCENE PHONE CALLER
54 THE NIGHT WATCHMAN
He watched while she performed by Joe Dean Clarkson
57 10-SPEED CLIMAX
On a big blue bike
71 SUN AND SAND
87 FRANNY'S FANTASIES
Her slick finger tricks do the rest
93 FRANCOISE
Made in France

PUBLISHER'S STATEMENT
GUN CONTROL
Since the shootings of John Lennon and Ronald Reagan, I've been waiting for the Americans to take some serious steps toward gun control. After all, with a martyr on the left and a near-martyr on the right providing a lot of popular support for the idea, the time is clearly ripe.
But nothing is happening and it looks like nothing will. The Americans cling to their constitutional right to bear arms like babies who fear their candy is going to be swiped.
And that's the big problem: Americans fear that without their guns they will be naked and defenseless. It's not true! There are plenty of lethal weapons around besides guns and remember, their constitution doesn't specify guns, it specifies arms. So here's a small suggestion, offered free to any American who wants it:
Get the populace to carry broadswords, the four-foot, 35-lb. kind favored by medieval knights. Or maces and morningstars, quarterstaves and shillelaghs, even lances and spears will do. These are unquestionably lethal weapons and, for peace-loving men, they possess numerous advantages:
You have to get close to use them — no more sniping from rooftops and running away. They are very difficult to conceal — no more surprises, wherein your first warning of attack is the feel of the bullet penetrating your liver. They are also very awkward to use, which will automatically render safe such places as elevators, apartments, milk stores and most bars, especially on Friday nights.
Most importantly, swords require a degree of skill to use. Any demented clown can point a gun and pull a trigger, but a sword, or anything like it, in the hands of a drunk, a punk or a maniac will most likely result in him spraining his own wrist.
Of course, it will not be easy to turn the gun-fixated American populace onto swords. It can only come about through a carefully orchestrated campaign designed to make swords the very essence of American macho. Begin with New York street gangs armed with swords. Then have the trend taken up by macho actors, rock superstars and Russian emigre ballet dancers, all Of whom wear their broadswords to trendy New York discos.
Once swords become a common sight in People magazine, Woody Allen can do a parody and get big laughs. Then Wide World of Sport can devote an entire show to motorbike jousting. Swords can be introduced into cop shows: Clint Eastwood leaps from the prowl car, draws his broadsword and goes haring after the thief through the crowds of San Francisco. And finally, macho men in aftershave commercials will be helped into their swords by big-bosomed, adoring blondes. The blade take-over will be complete. Strict gun control laws can then be enacted and nobody will even notice.
Well, has anybody a better idea?

RUSTLER FEBRUARY 1981
5 STATEMENT
7 BITS & BITES
Crazy, Zany & Bizarre
11 RESTRICTED REVIEWS
17 ADVICE & CONSENT
21 SEX GUIDE
Staying Power by Paul Brock
23 WHY BABY WHY
Sauna Snatch
30 INTERVIEW:
Marc Stevens by R. Allen Leider
35 FLASHBACK
39 Tanya Roberts
Charlie's Newest Angle
44 SENSUAL SATURDAY
While Hubby's Away Wifey Will Play by Erich Blau
48 BELINDA
A High Class Blonde
54 THE DEVIL COMES TO BONEVILLE
And — He Wants to Ban the Bible by W. J. Scanlan
58 SPONTANEOUS COMBUSTION
71 SPARRING PARTNERS
Three Knockout Nookies
83 EROTIC ENCOUNTERS
Needy Neighbour by Ritt Marmow
92 HOT HANDS
Beachcombers
Digs Her Own Clams

PUBLISHER'S STATEMENT
WHY?
Wby does this country still have censor boards? With all the outcry against them in the past two years, you'd think they'd be as dead as the dodo by now. The fact that they aren't means that somebody wants them. Who?
The obvious answer is prudes and self-appointed moral guardians, but I don't think it's the real one. After all, those people are just noisy citizens, few in number and without any real power—not the sort of people governments are apt to be responsive to, especially not here in Ontario.
In Ontario, big government listens to big business and, in the realm of film censorship, that means the distribution companies, the local arms of the giant American corporations whose job is to advertise films, book them into theatres and funnel money back to the studios, after taking a healthy chunk for themselves. These are the business interests who support censor boards across Canada.
For the distribution companies, films are not works of art, but commercial products, put on the market for the sole purpose of making money. They support the censor boards because for a nominal fee usually around $100 per feature), the boards protect them from the consequences of an obscenity bust.
Busts are expensive. There are legal fees; there's a copy of the film tied up for evidence instead of being out making money elsewhere; there's time lost from the job; there's money lost from the bad publicity; there's the threat of jail sentences and, worst of all, there's the possibility of loss of license—which means closing down the business and there go all the profits.
Theatre owners, of course can face the same hassles for exhibiting an obscene movie. They, too, quietly support the board.
If the censor board approval can save a distributor from all this, then it's worth the money and it makes perfect sense for distributors to be big, but quiet—distributors like to maintain a low profile — supporters of censorship.
But the boards can't protect the distributor. Obscenity is a federal, criminal charge. Any citizen or any cop can lay obscenity charges against a film, provided he can come up with some reason for callipg the film 'obscene.' Over a year ago, an Ontario minister laid charges against Monty Python's Life of Brian, claiming it was an affront to his god. The point to this is that the censors cannot do the one useful job that the distributors want them to do. And the distributors know this.
Why, then, do they continue to support the boards? Guess who controls the distribution licenses, at least in Ontario? That's right—the Censor Board. And as long as they do, the distributors will continue to support them. And as long as that happens, you and I will be going to butChered movies.