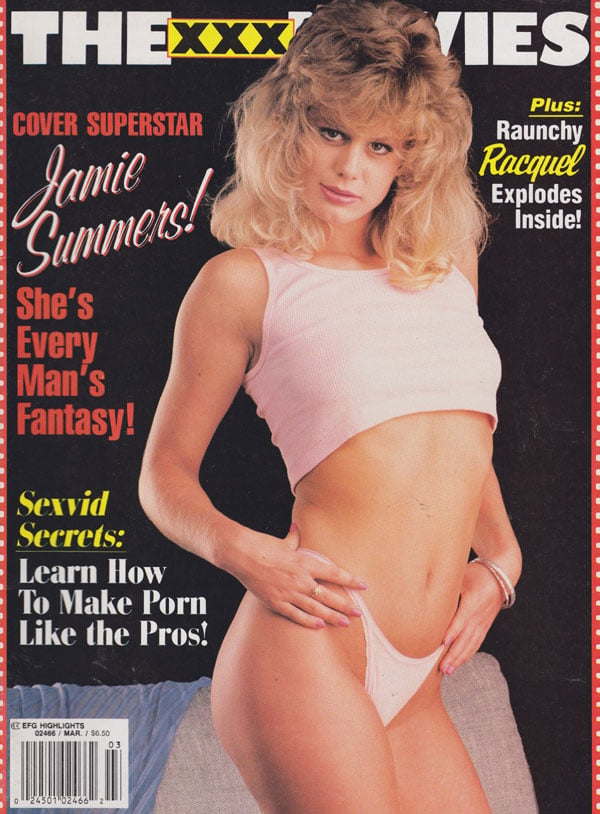 Erotic X-Film Guide Highlights March 1994 - The XXX Movies Magazine
TABLE OF CONTENTS
4 X-STAR SEXCLUSIVE:
Racquel DARRIAN
Racquel Gets Raunchy in The Silent Stranger!
10 BLUE MOVIE BOOB BONANZA
The Hottest Hoofers in Hardcore!
14 X-STAR SEXCLUSIVE:
KELLY O'DELL
Orgasm-Addicted O'Dell Returns to X!
18 AN INSIDER'S GUIDE TO SUCCESSFUL SEXVID SHOOTING
Learn How to Film Fucking Just Like the Pros!
24 BLACK FOR MORE
Video Review!
26 FAN CLUB DIRECTORY
Write To Your Favorite X-Stars!
28 WITHIN YOU AND WITHOUT YOU
Video Review!
32 SNEAK PREVIEW:
THE BEST OF BUTTMAN 2
Stagliano's Greatest Slits!
36 Jamie Summers
She's Bold, Brazen & Ready for Sex!
GOOD VIBRATIONS
Video Review!
59 DISTRIBUTOR DIRECTORY
The People Who Sell the Smut!
60 BUTT SLAMMERS 2
Video Review!
64 BUTTWOMAN BACK IN BUDAPEST
Sneak Preview: Tianna Tastes Hungarian Hardcore!
78 SNEAK PREVIEW:
GIRLS WILL DO BOYS
Kym Wilde's Ultra-Nasty All-Girl Slitfest!