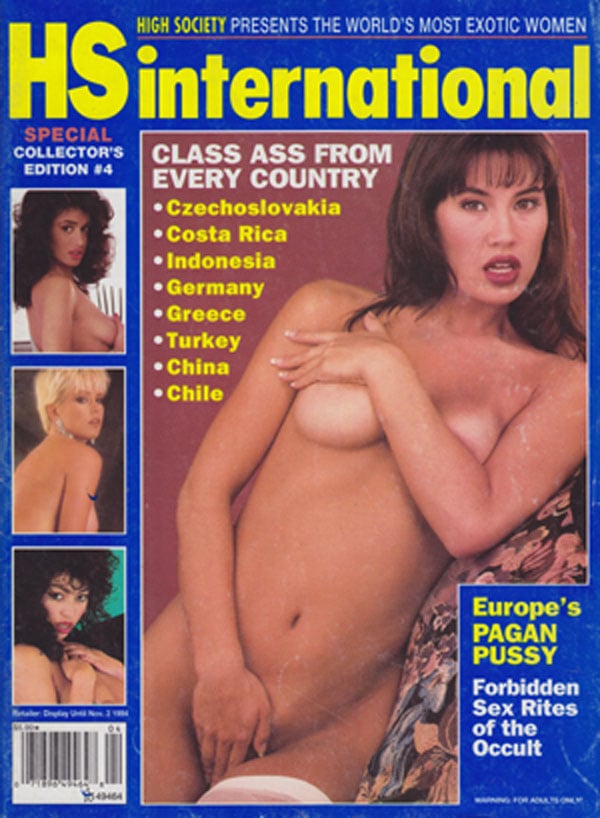 High Society International # 4 Magazine
TABLE OF CONTENTS
FEATURES
4 ART CORE
Fuckstyles of the weird and wicked.
38 INTERNATIONAL CELEBRITY SEX
Germany's filthy fräuleins of film.
42 KINKY KULTURES
Strange sex facts from far-off places.
70 EURO-PEEK-A
Euro chicks caught hot on camera.
122 PAGAN PUSSY
International sex rites of the occult.
PHOTOGRAPHY
10 GRETA
Rich German fräulein flashes jewels and jugs.
18 JASMINE
Indonesian business babe imports her pricks.
28 LYDIA & DIMITRI
Artsy Greek goo-gal sculpts a blowjob with her mouth.
48 CARMEN
Lusty Latino linguist lets you sample her "Chile" sauce.
58 ELEXA
Moist, man-hungry manager spreads wide for Turkish delight.
80 QUAN LI & PAUL
Wong-wild Chinese florist guides him to her Forbidden "Clitty."
92 ANITA
Costa Rican cash handler banks on her hard-cock hobby.
104 ELENA & Gabriella
Czech call girl and pussy poet sell their sonnets for sex.