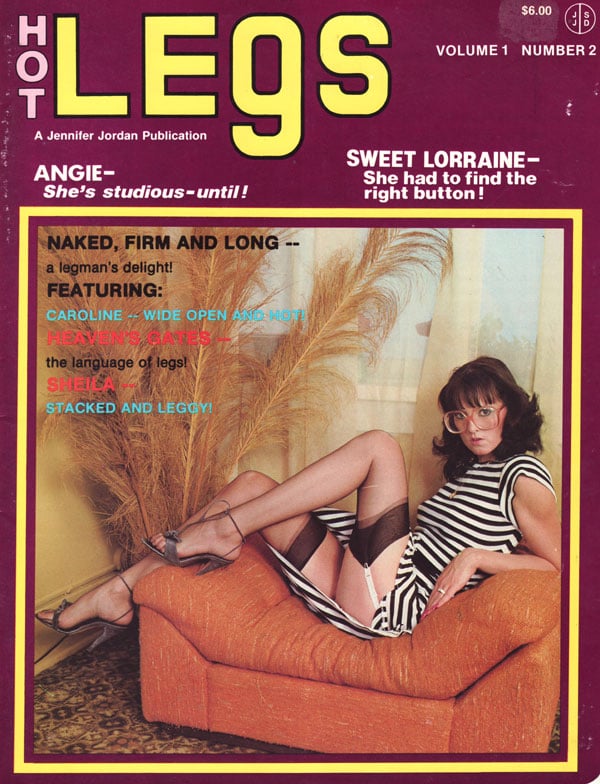 Hot Legs Vol. 1 # 2 - 1981 Magazine
TABLE OF CONTENTS
4 ANGIE -- BRIGHT LEGS
She's studious and serious -- until the glasses come off and the hot sex kitten emerges!
12 SWEET LORRAINE
There was one secret to his sexual appetite, and Lorraine was determined to find the right button!
16 ALONE AND HORNY
Caroline -- beautiful and always naked from the waist down!
26 LEGS GALORE!!!
A collection of gorgeous gals strutting their stuff!
30 HEAVEN'S GATES
A look at the meaning of legs -- a man's gateway to paradise!
38 SHEILA -- STACKED AND LEGGY
She's got it all -- on top and down below!
42 THE TWO FACES OF Chantelle-fontain-porn-star">Rebecca
She's all innocence, then all bitch. A leggy beauty for all seasons!

EDITORIAL
They are the gateway to paradise. On public view, they are the symbolic guardians of the treasures which lay between a woman's legs. They act as the subconscious extension of a woman's sexual organs, indicators of her erotic intentions. For millions of men throughout the world, the female leg is the strongest and most exciting part of the female body. A woman with beautiful legs is always considered sexually beautiful, even if the remainder of her physical attributes are somewhat below par. Men tend to look at a woman's legs first, attempting to determine just what her sexual proclivities might be. And women know that men seek clues from down below. The more sexually aware female uses her legs as a silent form of expression, letting those men in whom she is interested know exactly where she stands. The legs of a woman have become a sexual standard and object of erotic lust that carries with it its own language and its own form of dance. A woman's legs are the true extensions of her libido!